FRIDAY NIGHT FLOOR HOCKEY SCHEDULE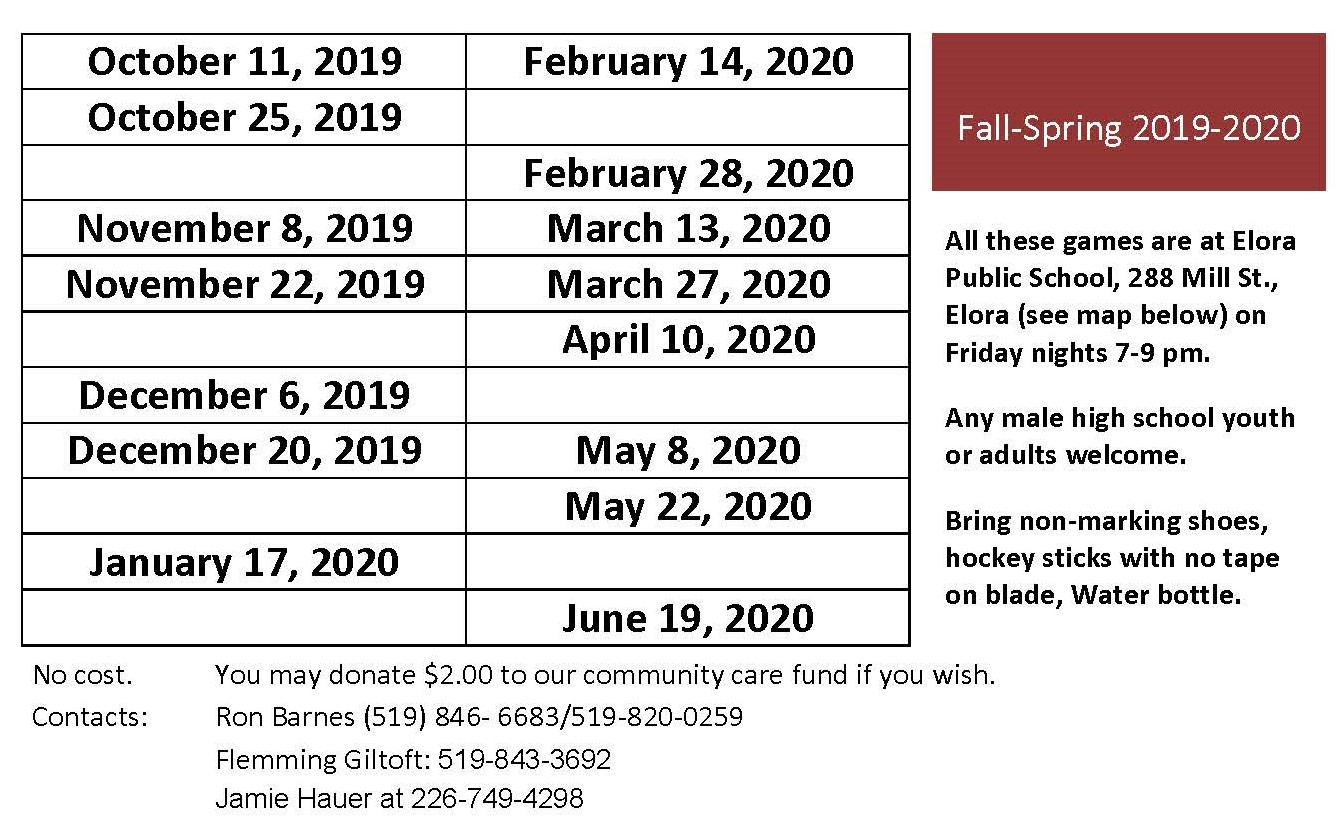 Friday Night Floor Hockey Location
ONSIDE ATHLETICS
Soccer
Since 2015, we have partnered with Onside Athletics to offer a soccer league for children in grades JK-6. Our league continues to grow each year and is accessible to players of all skill levels. Our coaches are volunteers from the church as well as the community and have a lot to offer each player. We host our league on the fields of the Elora Public School. Our season is 10 weeks long from May to July. We run Monday nights and each night includes a practice, a game, a snack, and a team talk. During these team talks, we take the opportunity to teach our players about character qualities that they can use both on and off the field. Registration for Summer 2020 is now open. For more information or to register for the league, please contact us or see the link below.
Summer Sports Camp
Along with our soccer league, since 2016, we have also partnered with Onside Athletics to offer Summer Sports Camps for children in grades 1-6. Coming summer 2020, we are running another 6 weeks of camp. They will consist of 3 weeks of soccer, 2 weeks of ball hockey, and, new for 2020, a week of Lacrosse! These camps will run in July and August.
Camp runs Monday to Friday, 9:00am to 4:00pm. Our camps are action-packed. We run a week-long tournament in the mornings along with a different team challenge each day. Teams will compete throughout the week in order to hoist the Onside Cup at the end of day Thursday. Not only do we have lots of sports, but our afternoons are full of all kinds of activities. From swimming, splash pads, and slip-and-slides, to dodge-ball tournaments and wacky scavenger hunts, our camps have something everyone will enjoy. And each Friday, we will spend the whole day at Bingeman's in Kitchener!
Our staff are well trained and excited to offer an experience for your child that they won't soon forget. Our staff are committed to care for the well-being of each child. We hold safety in high regard and take every opportunity to invest in each player, no matter their level of skill or interest in activities. We also take the opportunity each day to share with our players character traits that are of the utmost importance both on and off the field, which have been best displayed in the person of Jesus.
For more information on, or to register for, our Summer Soccer League or our Summer Sports Camps, please contact us or see the link below.